My location: Bukit Timah
My Residence: Condominium
Conveniently located in District 10, Central Singapore with lots of greenery and a nice place to walk your dogs. This indoor facility is safe for your little furkids who get to enjoy the outdoor pool view through our full glass viewing panel while they are resting. You are welcome to place your small dogs here with us.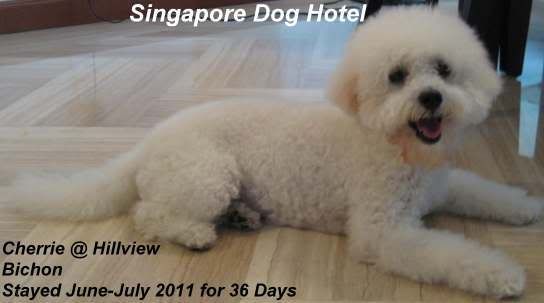 My Home Boarding includes :
1) Walking of your dog twice a day
2) Feeding. I cater to dogs on dry/wet food, home-cooked, and BARF
3) Baths. As long as your dog needs one, I will bathe your dog
4) Simple grooming like brushing of coat
5) Free outings and long walks to parks, dog runs, etc.
6) I will return you a clean dog at the end of your dog's stay.
If you would like to try out my place for boarding, call me
Junie @ 8186 5999
or email me:
junie@singaporedoghotel.com
Your Benefits
1) Love & Care from an Experienced Dog Caregiver who have taken care of many cycles of dogs -> dogs that have stayed here repeatedly many times.
2) Quiet Home Environment, away from the stress and noise of commercial boarding places.
3) Cozy & Comfortable Environment
4)
100% Attention from Myself.
I only take care of owner's dogs. I do not have my own dog currently, therefore my priority is directed 100% towards your dog's well-being.
Contact me
Junie @ 8186 5999
or
junie@singaporedoghotel.com
for a discussion and viewing.
I take in only small dogs like Chihuahuas:
Chihuahuas Boarding @ Singapore Dog Hotel